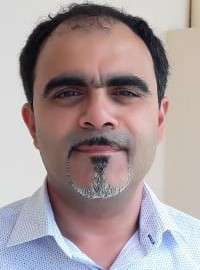 Ιoannis Giavasis
Associate professor
Microbiology of Food and Microbial Fermentations for the Production of Biopolymers
 
Research interests
---
Food Microbiology and Biotechnlogy, Microbial Fermentations, Bioprocess monitoring and optimization, Microbial Biopolymers, Bioactive and Bioprotective Microorganisms, Probiotics and Prebiotics, Food Spoilage and Safety/Hygiene, Natural Antimicrobials/Antioxidants, Biopreservation, Ηigh Pressure Processing, Electrostimulation
Brief CV
---
Dr. Ioannis Giavasis is a Food Scientist specializing in Food Microbiology and Biotechnology. He has graduated from the School of Agriculture, Dept of Food Science of Aristotle University (BSc with Intergrated Master, 1992-1998), and after a 2-month training in Dairy Microbiology and Biochemistry in the Alpine Dairy Institute (Rotholz, Austria) he carried out his PhD studies at the University of Strathclyde, Dept. of Bioscience & Biotechnology (Glasgow, UK) from 1998 till 2001 and then worked as a Post-Doc Research Fellow at Univ. of Strathclyde in collaboration with Pedigree-Masterfoods UK (2001-2002) and in PELEKEN food industry (Greece) (2004-2005).
He was appointed lecturer of Food Microbiology at the former Technological Institute of Thessaly (2008), and is currently Associate Professor of Food Microbiology and Microbial Fermentations at the Dept. of Food Science & Nutrition, Univ. of Thessaly.
He has participated in 2 European and 11 national research programs and more than 44 industrial R&D contracts, with a total budget ~4 million euros, of which he was the scientific co-ordinator in 1 European, 3 National, and 34 Industrial Research Programs. He holds 4 patents on bioactive molecules, natural antimicrobials/antioxidants and nutraceuticals, from which two industrial products have been introduced to the market. He has published >40 research and review articles and book chapters in scientific peer-reviewed journals/books with >1100 references (h-index=17), and 73 conference presentations. He is a co-editor in 3 book editions, invited reviewer in ~20 scientific journals, Editorial Board member in 2 Microbiology journals, scientific reviewer for the Greek Sectretariat of Research & Technology and the National Scholarships Foundation (IKY) and member of scientific committee/invited chairman in 5 international conferences. He has supervised over 90 experimental and 40 bibliographic undergraduate dissertations, 3 M.Sc. and 4 Ph.D. Thesis (2 of which as the Principal Supervisor). Full List of Publications is shown here: https://scholar.google.com/citations?user=26vsXOIAAAAJ&hl=en&oi=ao
Courses
---
General Microbiology
Food Microbiology
Microbial Fermentations & Food Biotechnology
Selected publications
---
Skenderidis, P., Mitsagga, C., Lampakis, D., Petrotos, K., & Giavasis, I. (2020). The Effect of Encapsulated Powder of Goji Berry (Lycium barbarum) on Growth and Survival of Probiotic Bacteria. Microorganisms, 8(1), 57.
I. Kafantaris, D. Stagos, B. Kotsampasi, A. Hatzis, A. Kypriotakis1, K. Gerasopoulos,S. Makri, N. Goutzourelas, C. Mitsagga, I. Giavasis, K. Petrotos, S. Kokkas, P. Goulas,V. Christodoulou and D. Kouretas 2018. Grape pomace improves performance, antioxidant status, fecal microbiota and meat quality of piglets. Animal, July 2017, 1-10.
Georgakouli, K., Mpesios, A., Kouretas, D., Petrotos, K., Mitsagga, C., Giavasis, I., & Jamurtas, A. Z. 2016. The Effects of an Olive Fruit Polyphenol-Enriched Yogurt on Body Composition, Blood Redox Status, Physiological and Metabolic Parameters and Yogurt Microflora. Nutrients, 8(6), 344.
Ioannis Giavasis 2014. Bioactive fungal polysaccharides as potential functional ingredients in food and neutraceuticals. Current opinion in Biotechnology, 26:162–173.
Ioannis Giavasis, Linda M. Harvey and Brian McNeil, 2006. The effect of agitation and aeration on the synthesis and molecular weight of gellan in batch cultures of Sphingomonas paucimobilis. Enzyme and Microbial Technology, 38:101-108.